Happy Weekend, bloggin' buddies. I need some help. Seriously. Even if you do not normally feel comfortable commenting, this bargain hunting momma needs some tips... I'm begging for it!
Look at this loot that I racked up for Addypillar today at the Encore consignment sale in Franklin:
Sadly, I left off her emergency vehicle bus from the picture... she was riding on it!
Mom and I headed out this morning for the "first time mom's" admission to this great consignment sale. I've never seen so many women on a mission--it was take or be taken, and I had to get more aggressive than I am comfortable with. I feel like I came away with some good buys and useful items, many of which I plan to move from the guest bedroom to our attic closet to store until her birthday.
I realized, however, that I am a true consignment novice. I didn't have much of a plan. I didn't know where to start, what to look for, how to compare. Thank goodness I had Mom to help! Today's sale marks the beginning of consignment season for me, and before I hit my next one next Friday, I need some tips from you savvy shoppers out there. What do you look for at a sale like this? How far ahead do you buy? How do you decide what quality, price, amount is acceptable.
I really felt overwhelmed in the clothing department. I only came away with some things to take to the Eagle's Nest at school with me this fall for "accident back ups." The one on Friday in Westhaven, I have heard, is geared toward fancier clothes of the smocked variety, and that even overwhelms me. What should I look for? Comment away...
After we left Encore, Mom and I headed to The Hill Center and into the open arms of my beloved Anthropologie to help Lindsay find some 10-year-reunion attire. Eye-popping, mouth-watering me immediately began pulling items from the rack, begrudgingly handing them over to my cute sis since dear Anthro didn't make it into my summer budget. Oh, how I miss you, sweet friend... Seriously. I walked past this piece of eye candy and thought of "O the Places I Could Go" in a dress like this: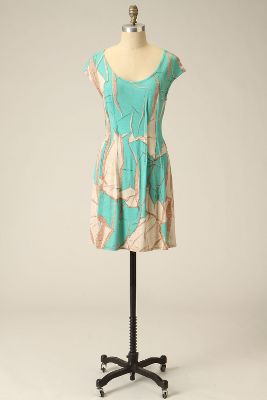 A date, a show, a party... you know the normal events that fill my social calendar! Ha! But, alas, Patrick and I are home doing some much-delayed baby-proofing thanks to some recent wake-up calls. It's been a good day, and I think we are going to end it by cozying up to a movie.
Can't wait to hear your great advice, friends!